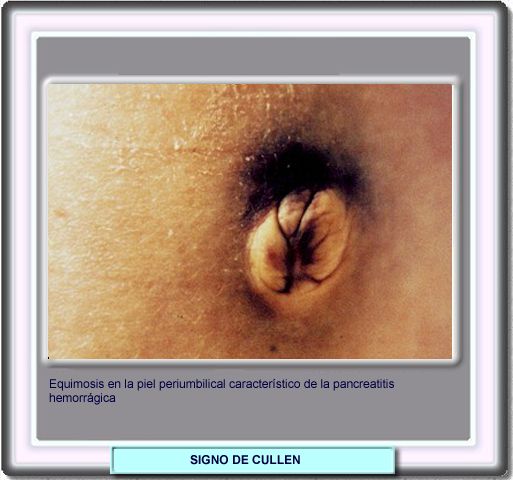 Descrito por primera ver por Cullen en 1918, este signo ha sido tradicionalmente asociado a la pancreatitis hemorrágica. Se define como una equimosis periumbilical que se observa en presencia presencia de hemoperitonéo, pancreatitis hemorrágica o ruptura del conducto uerino en el embarazo ectópico
Otras condiciones en las que se puede observar el signo de Cullen son:
Pancreatitis
Ruptura en un embarazo ectópico
Ruptura de un aneurisma de aorta uptura del bazo
Ruptura del conducto biliar común
Úlcera duodenal perforada
Carcinoma hepatocelular
Linfoma hepático
Biopsia hepática percutánea
Referencias
Marinella MA: Cullen's sign associated with metastatic thyroid cancer. N Engl J Med 1999;340:149-150.
Mabin TA, Gelfand M: Cullen's sign, a feature in liver disease. Br Med J 1974;1:493-494.
Dickson AP, Imrie CW: The incidence and prognosis of body wall ecchymosis in acute pancreatitis. Surg Gynecol Obstet 1984;159:343-347.
Silvestre JF, Jover R, Betlloch I, et al: Cullen's sign sec-ondary to intra-abdominal non-Hodgkin's lymphoma. Am J Gastroenterol 1996;91:1040-1041
Capron JP, Chivrac D, Delamarre J, et al: Cullen's sign after percutaneous liver biopsy. Gastroenterology 1977;73:1185.
Chung MA, Oung C, Szilagyi A: Cullen's sign: it doesn't always mean hemorrhagic pancreatitis. Am J Gastroenterol 1992;87:1026-1028.